FitBack Super 7
Back Pain Prevention
FitBack Super 7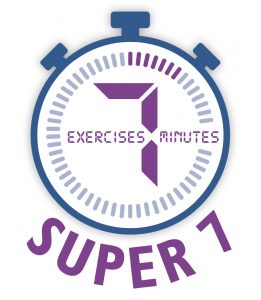 7 Exercises, 7 Minutes for a fitter back. 
The more time we spend sitting and inactive, the more we are in danger of becoming chair shaped. We`re all guilty of spending too much time sitting!
Prolonged sitting doesn't just give us tight muscles and joints.  The latest research shows that we are at risk of other, more serious medical conditions such as heart disease, diabetes and certain types of cancers.  It can also be bad for our mental health.
Breaking up our day with regular movements of our spine through FitBack's Super 7 is the perfect solution to get you moving.
Tightness in the muscles that support and surround the spine is one of the biggest causes of back pain and these are some of the most effective exercises to mobilise and stretch your back.
For those with existing problems, these exercises will help to relieve stiffness and pain.  They are also great for people who haven't experienced issues in the past but who`d like to help prevent problems from starting.
The 7 minute exercise video can be viewed on a plasma screen or laptop played in a meeting room or break out area in the office. The video can also be uploaded onto your company's intranet or APP so your staff can access the video at any time. We`ll supply you with Super 7 leaflets and gym mats so that your team are comfortable whilst carrying out the exercises.
There`s no better way to get your employees moving in the office and to help prevent them from becoming chair shaped!
How does it work?
One of our physiotherapists will visit your office/ site.

They will demonstrate the FitBack Super 7 exercises to your employees through short 20 minute workshops. These can be repeated throughout the day.
A suitable area such as a meeting room or breakout area will be required along with access to a plasma screen or laptop.
Employees will be able to take part wearing appropriate office work wear. Those taking part should avoid wearing skirts or dresses due to the nature of some of the exercises!
You will receive 10 yoga mats and Super 7 leaflets to accompany the exercise video.
The video can be uploaded onto your company intranet and company APP so that employees can access it at any time.
You will have ongoing access to the Super 7 video through whichever format you choose.
Perfect solution for a quick lunch time workout.
Can be incorporated into manual handling training.
Who will it benefit from the Super 7?
Those employees with pre-existing low back problems.

Employees with ongoing niggling back pain and stiffness.

Employees at risk of back pain involved in manual handling or prolonged seated postures.

Anyone that wishes to experience a fitter back.

We engaged with Fitback as part of our wellbeing strategy, they were able to come onsite to provide a presentation on keeping active within the workplace, offered a gym ball exercise workshop and provided one to one physio appointments for employees.
The presentation provided great tips on keeping active and helped to raise awareness of why it's so important, it was delivered in an engaging way with employees being able to take away simple steps to make a difference for them. The presentation was the perfect length with member of the Fitback team being available after for any specific queries from individuals.
The gym ball exercises were great fun with employees providing really positive feedback on the sessions. The physio appointments were also valuable to our employees for people to seek advice on ongoing issues with some employees booking further follow up appointments.
Fitback have been a joy to work with, they are incredibly flexible around our company needs and times and have provided a great service, we have nothing but positive feedback from our employees about them and the service they have provided
Stacey Gillingham
People Support Supervisor