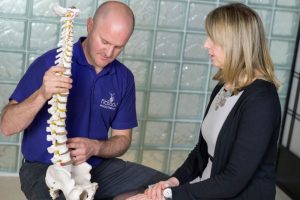 FitBack were delighted to take part in Harrogate`s St John Fisher school`s health and wellbeing day recently to help staff with Mental health and wellbeing. We were approached by the school to take part in this unique event to help staff manage their aches and pains which is often a side effect of years of teaching.
The school's special projects manager, Dennis Richards, hailed it a pioneering initiative that he hopes will inspire other schools and education providers to explore more innovative ways of supporting teachers and staff through any of their day-to-day stresses and challenges.
In my experience having seen many teachers for physiotherapy over the years, they often find it difficult to find time to access physiotherapy. It`s not easy to pop out of school during the day to attend a physiotherapy appointment. I see the same pattern time and time again where teachers have waited to access physiotherapy during holiday times, having possibly suffered with problems for weeks or even months before looking for help. This can mean that potentially acute mild issues can progress to chronic conditions and can develop to have a bigger impact on their lives and even absence from work.
During this event we were able to provide advice to staff who had been suffering with problems for sometime. This consisted of an assessment to get an understanding of their issues followed by a demonstration of exercises and self management techniques to help their problems. Many of the staff at their assessment reiterated that they hadn't accessed physiotherapy prior to this session due to limited time available and the inconvenience of attending appointments during school time.
For the full article please see
https://www.harrogateadvertiser.co.uk/news/teacher-training-day-with-a-difference-why-a-harrogate-school-is-ripping-up-the-rules-1-9524715